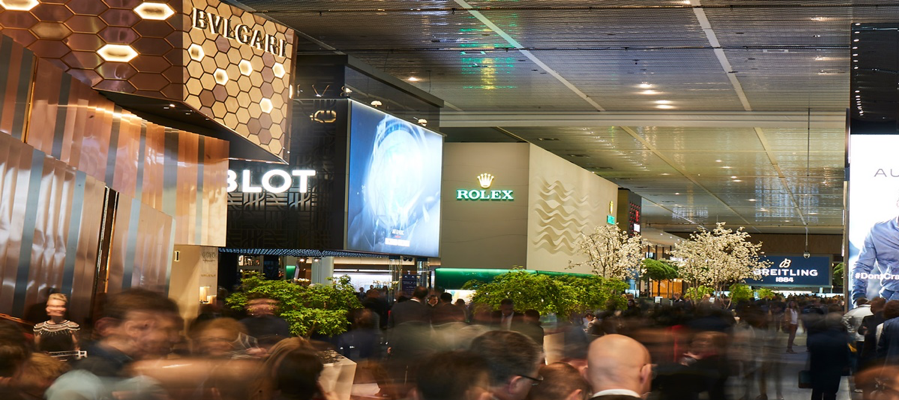 Dear Friends,
I write this as I am on a plane heading home from the Baselworld Watch and Jewellery Fair in Switzerland. I make my annual pilgrimage in order to hold the new introductions in my hands (and put them on my wrists), check out new trends, and to solidify long-standing relationships with the world's finest watchmakers.
I could be coy and save Rolex news to the end but let's get right to it:
---
Rolex
GMT Master II
The big news is the blue/black GMT Master II is being reintroduced with the upgraded movement, more streamlined case, and the Jubilee bracelet. I expect that like its red/blue counterpart, demand for the new BLNR model will outpace supply. I say this with a caveat. Because it's official that the Oyster bracelet versions (all black bezel and the blue/black GMT Master II) have been retired, I have hope Rolex is pouring its manufacturing ability toward the new models and I'll be able to make more people happy in 2019. Deliveries of these models are expected to commence late summer/early fall.
Sea Dweller
The new steel and 18K yellow gold Sea Dweller is gorgeous. Overall it looks very much like the current steel and 18K black dial Submariner, but with attitude. This watch is following a strong trend toward bi-colored metals (more on this below). And it is 43mm.
Yachtmaster
All versions of the Yachtmaster received some subtle but important changes. The case lugs are more curved which fits a wrist even better. The Everose models on Elastomer straps are getting a new buckle with the Glidelock adjustment. This makes the watch easier to wear, and potentially to share.
Datejust
The 36mm Day/Date, 31mm Datejust, and 36mm Datejust models received the upgrades which started at last year's Basel Fair. They now have the more refined case, new movement with Syloxi mainspring, detailed bracelet ends, and adjustable clasps in both Jubilee and Oyster style bracelets. The number of dials offered on these models are new and admittedly limited. Previous models had a choice of over a dozen dials; the new ones offer fewer. I already have both new and previous models in our cases so you can come by and compare the differences for yourself. More of the new models will arrive in May.
Jeweled Rarities
Amazing limited jeweled rarities were the talk of the show. Three versions of the 36mm have been created. One in 18K yellow, gold, one in 18K white gold, and one in 18k Everose (rose) gold. The dials are pave set with white diamonds. The markers are a variety of hand cut multi-colored rubies and sapphires. The bracelets have diamonds set through the center links. There is a new Everose GMT Master II set with red rubies, white diamonds, and blue sapphires which fitting received the nick name, The Patriot. And, there is a jeweled Daytona Cosmograph on Elastomer strap which is stunning. I ordered all of them. I'll be fortunate to receive even one as they are limited worldwide.
Retired Models
Of interest are the models which have been quietly retired. The steel and yellow gold GMT Master II is gone. It will now be available in steel and Everose only. This is a good balance and point of differentiation from the steel and 18K yellow gold Submariner. All Pearlmaster models are no longer being offered. They have been very popular, so this was a surprise. I still have a few if one is needed. Platinum is no longer available (although I never got a definitive answer if this includes the platinum Daytona). Oyster bracelets and domed bezels on the 36mm Day/Date now fall into the collectible category.
In short it seems that while Rolex continues to lead the world in innovation and prestige, they understand some of the frustration from the last year and a half when at any given time a watch of choice was unavailable. They have eliminated models, and variations of models, which should allow for greater production and deliveries. We'll find out together.
---
Breitling
Breitling held a seminar in Switzerland where they reaffirmed the brand's focus on embracing an active lifestyle. To that end Breitling is expanding their two newest collections; Aviator 8, and Premier. More dials (yes, blue) are coming. These are watches designed for daily wear. The new Bentley is part of these collections and has a gorgeous wood dial. Breitling has clearly been researching its own archives as they came out with four chronograph models directly from the 1960's and 1970's. Three honor their aviation partnerships with Pan Am, TWA, and Swiss Air. They have colorful dials in those companies' corporate colors. The fourth is a vintage Navitimer with smaller case and highly detailed dial. It is made EXACTLY as it was originally but with modern timing and accuracy. There is also a series of watches honoring WW II and the War Hawk fighters flown during the war. All have khaki dials and/or straps. To commemorate a more modern achievement the B50 Orbiter in International Orange is being offered in a limited edition. It celebrates the 20th anniversary of aviation's final achievement, the circumnavigation of the earth in a balloon.
Overall, io me it looks as if Breitling has its eye a bit more on the American market, which is a good thing.
---
Tudor
So many great new offerings. Tudor continues to build on the Black Bay collection with new introductions and changes to existing models. The Black Bay Bronze will now have an anthracite (charcoal black) dial and bezel, still with the substantial distressed leather strap. A larger steel and gold chronograph with a bigger case looks retro and awesome. And the new ....is simply cool. This is a watch originally designed for the US Navy but never went into production. It has a locking mechanism for the time-lapse bezel and a unique placement for the crown. The crown at 4 O'clock not only beaks with tradition but It's been moved there for a dual purpose; it makes the watch more durable and comfortable at the same time.
It also won't hurt Tudor that Lady Gaga became a spokesperson last year just before she exploded her already huge popularity by becoming a movie star too. We'll see much more of Tudor this year.
---
Frédérique Constant
Beautiful, beautiful timepieces for women at obtainable pricing. That's what I took away from my meetings with them. The diamonds are bigger this year. The prices are not. Frédérique Constant continues to create affordable elegance in all categories. Alvin Goldfarb Jeweler is partnering with Frederique Constant to sponsor the Seattle Polo exhibition this summer.
Come in and I'll tell you more.
---
Trends:

Interesting dials. Every brand is showcasing blue dials, often gradated with lighter blue in the center.
Cases are getting smaller. No one is making tiny watches but average sizes are shrinking. I saw lots of 38mm replacing 42mm.
Bi-colored bezels and bracelets. Two-tone is back in yellow gold, rose gold, bronze, and creative high tech materials.
Reproduction pieces from past collections.

What this means:

The internal focus on the brands is to simplify their offerings and make more of what clients are requesting. This should help to lessen frustration. Still, certain models will always be hard-to-find.
With a number of models being updated this potentially provides an opportunity to purchase the classic models at a great value. It will be similar to an automobile dealership wanting to move the 2019 off the lot when the 2020 models start arriving.
2019 is going to be another banner year for watches and watch collectors
I look forward to sharing these watches, and more, with you. Please stop by.
~ Steven Goldfarb